My daughter loves to dance. I love to watch her dance, and I love that she loves something so much. She goes after what she wants with such intensity, it makes me happy.
I wish I had the courage to have followed my passion at such a young age. But I'm learning from her and going after what makes me happy now.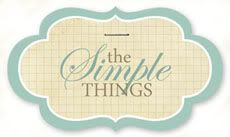 Join Rebecca Cooper and me in celebrating the Simple Things. Visit her blog to see how you can play along.